Custom Architectural Stained Glass Projects
Windows, Doors, Kitchen, Bath
Glass first appeared on sandy beaches, found in the ashes of beacon fires set along the coastlines of the olde worlds.  The Silicon Age began. Today we communicate with machines aweb in silicon around our marbled planet using glass at light speed.  Traditionally, stained/colored glass has been a means to tells stories, set a mood or communicate thoughts and emotions for private and public viewing alike.  Eons later we are still sailing our ships offshore looking for familiar sights.
Liquid glass is made and then formed in many ways: Unique glass blown objects, familiar cast jars, clear and colored sheet glass-which have all persisted for a while now...and will last long into the future. Whole or in shards scattered  light will eternally glint off crystal and glass prism facets and catch one's eye!  Glass....along the sandy reaches.
I enjoy designing and building architectural glass projects. They capture light and bring it into our homes and special places with a sense of colorful play, projecting images and transforming the space into which the sun and lights shine.
Glass is a great finish material not only for windows and doors but also around the kitchen and bath.  Able to prismatically detail a decor it is also a very durable material that is easy to clean and shines up nicely!  Jewel Quality Glassworks are a great addition to any architectural design or project material list.
Sometimes a little is a lot, and hanging medallions or colorful pendants can add to the flavor of a space in amazing ways!  Our work benches produce various curios along with the commissions and projects that are born there.
Like the palette the glassworks bench offers, this web site will continue to change and evolve, a kaleidoscope to peer thru to see what's going on at the moment.  Enjoy!

Christian JQ Jaquith.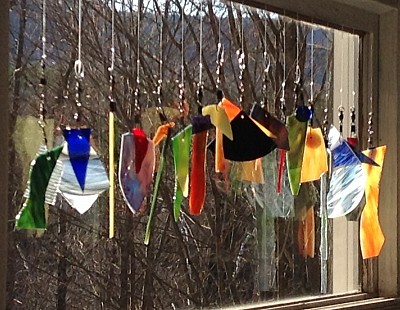 Glasscicles