Check out Ducky's 2022 Adventures in our Architectural Glassworks Design/Build Studio.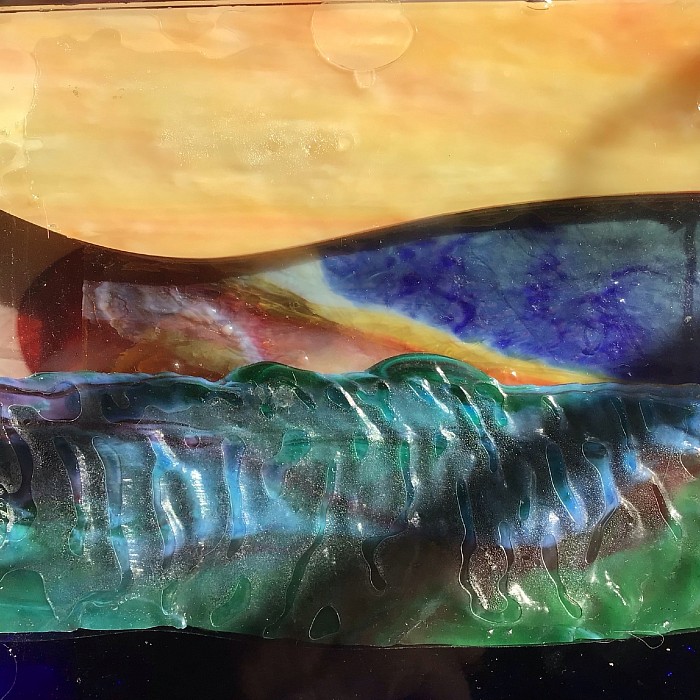 Troll Hill Glassworks Annual Studio Review~2021 Season~ April 12, 2021-Jan 10, 2022.  A Baker's Dozen of Glass Chairs.
This past season was Amazing and fun!  The Single Chair Medallions made a milestone leap by taking the 10 year old design/build project to the electronic drawing board. Thus seeking out a water jet cutting process to shape custom stained glass puzzle pieces followed, and then a way (or three) to connect them together via an "unleaded" building technique journey.  But we stuck to it and all the pieces are as one for each glass Jewel  Quality medallion! 
The Limited Introductory edition of 16 original medallions will also support the Stark Mountain Foundation as a donation is made from any proceeds.
A great side journey ensued as the photographic nature of the work developed into a series of photos printed on glass, these are Fun!  Look for more to become available locally.
A big shout out to our Early Supporters who have given a great head start for Ducky, Biker Troll and many others on a bit of an adventure!  And an ongoing thank you to the growing interest and support from All of us at Troll Hill Studios!
-In Memoriam-
We lost our beloved Sage, Harold Dumpty 1066-2020, a year ago last fall.  He fell, hard, but in spite of the "plague", and other Medieval childhood challenges along the way, the least of all the lack of Calculus, the latest scourge did not touch him, but, Gravity seems to have won over and crushed him in a way no other had been able, heart, soul and sable. The Valkyries bore him away, seems he might have been a Viking after all.
A short slide show has been put together by the Troll Hill staff, see below.
Be Well, Enjoy!